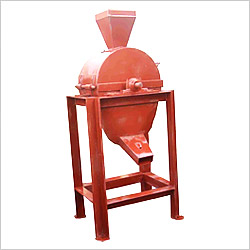 Characteristics
Hammer mill is a economical unit designed for general ail-round work for time saving operation. Most Often, the only changes necessary are of Screens, hammers and liners.
Feed Material passes through a wide feed hopper into the grinding chamber. The swinging hammers, ha the rotating hammer rotor, crush materials at the stationery liners before driving them trough a screen and type of hammers used. The method of operation is impact grinding.
Traditional disintegrators are technologically replaced by these modern machine, having total flexibility. Combination of different hammer styles, liner plates, sieve inserts and wear resistance technology offer almost unlimited possibilities crushing lumpy, bulky, irregularly shaped, hard & fibrous materials, into coarse to medium tine powder.
Hammer mill is subjected to rigid lint inspection and actual grinding tests at our experimental station before it is delivered to the stores for dispatch. Grinding tests with your materials can also be carried out without obligation for testing the suitability of the mill for your satisfaction.
Application:
| | |
| --- | --- |
| PERMISSIBLE FEED SIZE | UPTO 100MM |
| FINENESS ACHIEVABLE | UPTO 80 MESH OR 180 MICRONS |
| PERMISSIBLE HARDNESS | UPTO 3MOH'S SCALE |
| PERMISSIBLE BRITTLENESS | MEDIUM TO HIGH |
| PERMISSIBLE MOISTURE | UPTO 3% |